Champaign firms on Inc. 5000 list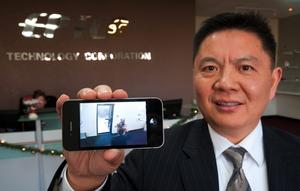 Kevin Wan, CEO and president at EP Technology Corp., demonstrates some of the products his company sells and distributes in this file photo.
CHAMPAIGN — Two companies based in East Central Illinois appear on this year's Inc. 5000 list of the nation's fastest-growing companies.
Champaign-based EP Technology Corp. was ranked 950th on the list, with three-year revenue growth of 457 percent, according to Inc. magazine.
Meanwhile, Midwest Underground Technology Inc. of Champaign placed 3,477th, with three-year revenue growth of 88 percent.
Both companies had appeared on the list before.
EP Technology, based at 1401 Interstate Drive in Interstate Research Park, was first listed in 2012, debuting at No. 636. The company sells, distributes and provides technical support for Zmodo video security equipment, made in China.
Midwest Underground Technology, which was acquired in July by Sabre Industries, has been on the list for seven years.
The company develops, erects, maintains and repairs communications towers and does antenna installations. Its headquarters are at 2626 Midwest Court on Champaign's northwest side.
According to the magazine, EP Technology had $28.7 million in revenues and 70 employees in 2012. In last year's survey, the company was listed as having $18.6 million in revenues and 65 employees in 2011.
Midwest Underground Technology's revenues totaled $49.1 million in 2012 while employment was 150, according to the magazine. Those represented increases from the previous year, when revenues were $33.2 million and employment was 114.
Two area companies on last year's list — ATS Acoustics of Piper City and Prominic.net of Champaign — did not appear this year. Last year, ATS Acoustics ranked 3,544th, and Prominic.net ranked 4,212th.
Several other companies with area ties made this year's list. They included:
— Dawson Logistics, a Glen Carbon-based company with warehouse facilities in Danville. It ranked 4,616th, with three-year revenue growth of 47 percent. It was the seventh year the logistics and transportation company made the list. In 2012, its revenues totaled $22 million and it had 122 employees.
— Strata Decision Technology, based in Chicago with key offices in the University of Illinois Research Park in Champaign. The software company ranked 3,932nd. It had 70 percent revenue growth over three years, with 2012 revenues totaling $17.5 million. The company had 90 employees.
— Rosemont-based First Hospitality Group, which will manage the Hyatt Place Hotel in downtown Champaign. It ranked 4,108th, with three-year revenue growth of 64 percent. Its revenues totaled $243.5 million in 2012, and it had 3,921 employees.
— Meatheads, the Chicago-based food and beverage company that opened a restaurant in Champaign in late 2011. It ranked 1,420th, with 282 percent revenue growth over three years. Meatheads had $105 million in revenues in 2012 and 210 employees.
As might be expected, most of the Illinois-based firms on the Inc. 5000 were based in Chicago and its suburbs.
Among the downstate representatives on the list were:
— Ervin Equipment, a logistics and transportation company in the Cumberland County community of Toledo (No. 977).
— Springfield-based LeadIT Corp., an information technology services company (No. 1,360).
— Elastec, a manufacturing company in the southeastern Illinois city of Carmi (No. 2,266).
— SCSI, a business products and services company based in Peoria(No. 2,511).
— A.M. Transport Services, a logistics and transportation company in the southeastern Illinois city of Olney (No. 2,930).
— Peoria-based manufacturer Advanced Technology Services (No. 3,559).
— Effingham-based Heartland Dental Care (No. 3,717).
— Peoria-based Advanced Correctional Healthcare (No. 3,911).