EP Technology Corporation USA honored for Inc. magazine's Hire Power Awards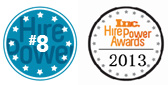 EP Technology is ranked #8 in the securities industry
EP Technology Corporation USA honored for Security Industry job creation over the past 18 months
New York, NY (October 24, 2013) –Champaign, IL-based EP Technology Corporation USA has been featured in the 2nd annual Inc. Hire Power Awards, which recognizes the private businesses that have generated the most jobs in the past three years. EP Technology Corporation is placed among the top 10 private business job creators within the Security Industry.
www.inc.com/hire-power/list/2013/industry/security
"This award is an affirmation of our commitment to growth and development in our community. We believe that developing our workforce is as important as growing our profits and is at the core of our innovative culture," said Dr. Kevin Wan, EP Technology's CEO.
The Bureau of Labor Statistics reports that only 222,000 full-time jobs were added in 2012—compare those numbers to the honorees of the Inc. magazine's HIRE POWER AWARDS, which created 69,182 jobs between January 1, 2012 and June 30, 2013. These companies just like EP Technology Corporation USA could hold the key to restoring America's economic vitality.
"For the second year in a row, we are pleased to recognize the employers who are putting Americans back to work for a second time," says Eric Schurenberg, Editor-in-Chief of Inc. "The HIRE POWER AWARDS are the only awards that single out job creators. We think it's fitting to pay tribute to company founders not just for their business prowess but also for their immense contribution to the welfare of U.S. workers and the vitality of the U.S. economy." 
EP Technology Corporation USA is among the 437 private growth companies that are HIRE POWER AWARDS honorees, leading the way in creating more American jobs. The honorees are found across the country in 25 industry categories.
An award ceremony, sponsored by Bank of America Merrill Lynch, will take place November 12, 2013 in San Francisco.